After working for several years as an art restorer;
it was but a small step to painting full pictures; being self taught Laffanki has
developed his own style and originality by painting with feeling from the heart.

Laffanki's very special and unique way of using colour make him his own man;
having already set himself apart from any other artist. He is always pushing
back the frontiers of the accepted norm - uniquely creating pictures that are
vibrant and different in form.

You can almost taste the pure sensuality of colours!

Laffanki's work has found a very ready following of U.K. Collectors, some
owning 8 or 10 pictures as well as buyers from America, The Continent and Asia.


PLEASE CLICK ON THE BUTTON BELOW TO VIEW A SAMPLE RANGE OF WORK.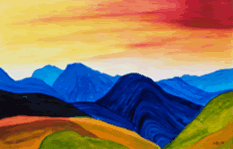 visit The Laffanki Studio in person:

01524 222554